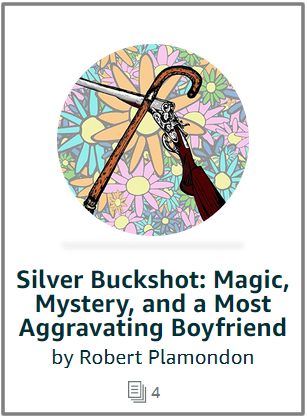 In Reverse Psychology, Episode 14 of Silver Buckshot: Magic, Mystery, and a Most Aggravating Boyfriend, Flavia awakens to discover that, as expected, she remembers nothing about her midnight meeting with Frank. She can see the future but forgets by morning. She deals with this by writing down the crucial information.
Seeing the future is no bed of roses, apparently. The meeting seems to have taken a lot out of Frank, so she doesn't have the heart to ask for the complete rundown.
Sample line: As he finished buttoning up my dress, he murmured, "Everything will be all right, Flavia. We're the perfect team; nothing can change that. When you see into the future, we always love each other."
This melted my heart, but I refused to let myself cry. Daddy would be here in a few minutes. I put my nose in the air and said, "You'll do for eternity, Frank Barron, and not a moment longer!"
Don't miss the oracular revelations of Episode 14 of Silver Buckshot, Reverse Psychology!
See my main story post for Silver Buckshot or jump right into Episode 1 on Kindle Vella.