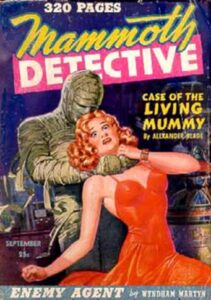 I was under the weather for a while with that cold that's been going around. The scheduled episodes all posted on time but I didn't post anything on social media to let people know, so here's a belated fourfer to catch us up.
Episode 28: Duct Tape. As you'll recall, Flavia gave Fank a note informing him that they'll be walking into a trap this evening. Frank finds a creative use for duct tape in the hopes of shifting the odds in their favor.
Episode 29: Biological Warfare. Frank's creativity knows no bounds, especially not the bounds of propriety!
Episode 30: Rancho Vampiro. Well, with a title like that, you hardly need me to write a sentence as a teaser! Let's just say it delivers what it says on the label. The die has been cast, the game is afoot, the time for preparation is over and the action has begun!
Episode 31: Dinner Bell. This title is even more self-explanatory than the last one! Or … is it?
Up next: Episode 32: Instant Camera. Wait, what? Good. I was making too much sense for a while there.