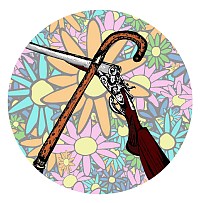 All 39 episodes of my banter-packed serial novel, Silver Buckshot: Magic, Mystery, and a Most Aggravating Boyfriend, are available for your reading pleasure. Read the first three episodes for free. The second volume is coming soon!
Thirteen-year-old Princess Flavia has endured a lot recently. Polio crippled her legs and killed her mother, her father is sunk in grief, and her servants veer between negligence and cruelty. She takes refuge in her books and never complains. But she draws the line at being murdered. Fourteen-year-old Frank Barron conceals her when the shooting starts. This is no accident: a letter told him what to do. It's signed, "Love, Flavia." She has no memory of it. And she can't tell the future! Can she?
Read Silver Buckshot on Kindle Vella
This uses the new Kindle Vella platform, which is specially designed for episodic stories. The first three episodes of every story are free. After that, you pay, but they hand you hundreds of free"tokens" just for showing up, so that'll keeps you busy for a while.
I leverage my own experiences in this book for that extra realism in spite of the fantasy elements. Flavia's polio is based on my father's, for instance.
Episode List
All 39 episodes are listed below.
I have already started work on Season Two.
Feel free to comment on these episodes here or on Facebook. I'd also appreciate a thumbs-up and a follow on the Vella platform.
Happy reading!